Stantec GS Inc., is an architecture and engineering firm, with a primary emphasis on providing services to the US Department of Defense (DOD). Due to Federal rules involving foreign ownership, Stantec GS Inc., needed a solution to integrate their financial records between their account system and parent company's systems. Skapa was able to successfully complete the projects in a short amount of time and continues to monitor and update Stantec GS Inc.'s applications as needed.
Skapa provides support for Stantec GS Inc.'s environmental impact statement projects, including Navy OTC, Naval Shipyard and Bremerton. Skapa designed content management applications for all three of the projects. Each content management system compiles the US Navy's research for each of their projectsand created individual websites. These websites allow the public to be informed, collect feedback, and provide the correct forms to be submitted for each project.
Navy OTC
The Navy OTC Revitalization Project focuses on the redevelopment of NAVWAR (Naval Information Warfare Systems Command) and brings, "economic benefits to the region through construction and operation of new commercial, residential and transportation facilities." The Navy needs "new mission-capable and modern facilities to support its cyber security mission." In order to start these projects, the Navy OTC must first gather and present all of the necessary information to the public, allowing for feedback/comments regarding this development.
Naval Shipyard
The Navy established the Shipyard Infrastructure Optimization Program (SIOP) to provide shipyard maintenance to sites where "nuclear-powered vessel maintenance is performed." Skapa designed a way for the US Navy, to track Consulting Parties and their meetings as well as keep those sites private and secure." The Navy's mission of addressing the challenges led to the development of a Nationwide Programmatic Agreement (NPA), that will "adapt strong, proactive, and innovative historic preservation planning." The Navy will be discussing these plans with the Advisory Council on Historic Preservation, as well as several other national and state historic preservationist organizations.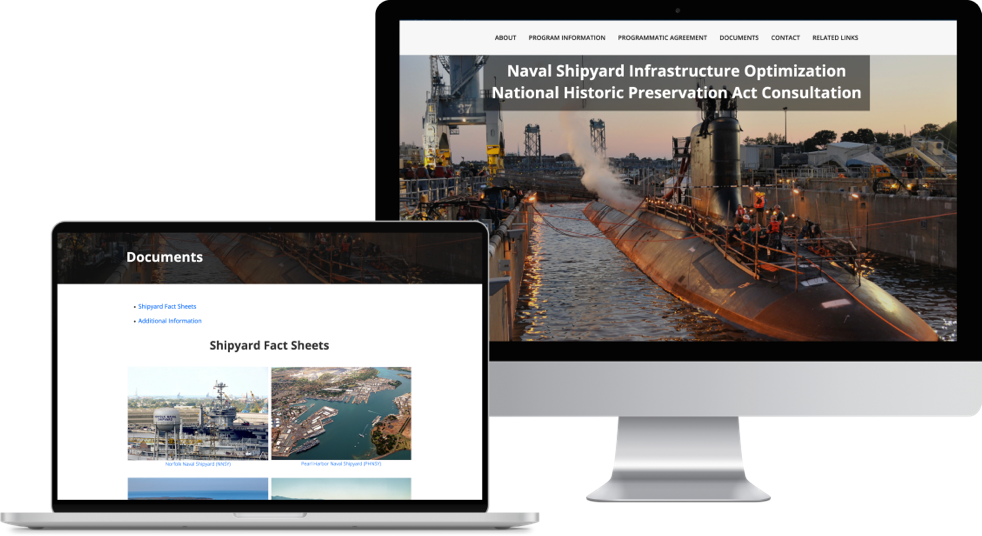 Bremerton
The Navy's Bremerton Waterfront Infrastructure Improvements Environmental Impact Statement (EIS), is a proposed act to "address critical deficiencies in dry dock capacity and capability." The current and future improvements to this shipyard are vital to national security. Before improvements can be made, the Navy is required to submit an EIS statement, which gives the public detailed information and provides a platform to provide feedback. The content management system that Skapa developed helps to compile all of this information.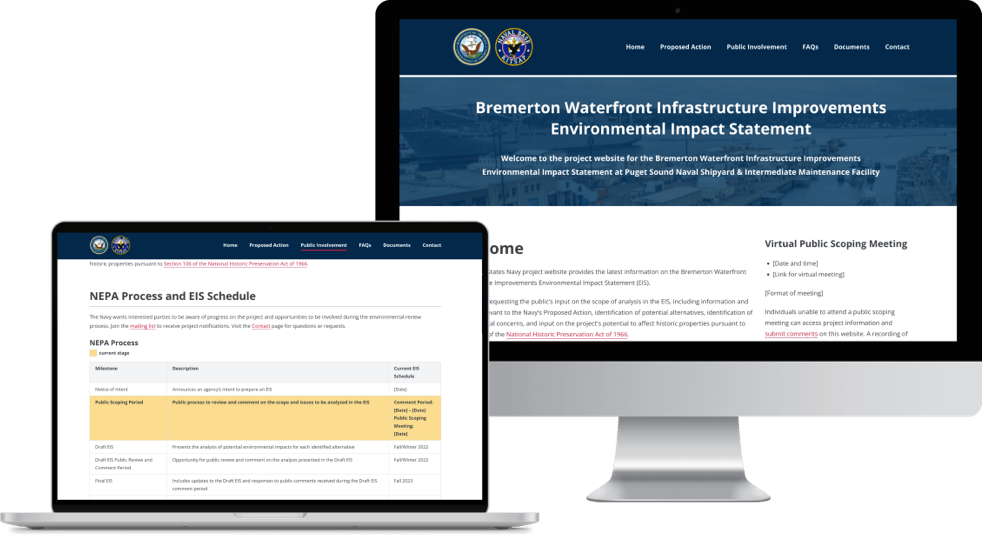 "Stantec GS Inc. has been working with Ryan Casey for over 10 years and with Skapa Tech since 2016. Skapa has always been quick to respond to our web, application, and SQL development needs. As a US DoD contractor, we frequently need to create public websites, password protected websites, and maintain databases of documents and public comments for our clients. Skapa has been instrumental in helping us to keep our clients happy and keep our projects on budget. In many instances, Skapa can work directly with our project teams for revisions and updates without the need for a technical liaison to facilitate requests. We look forward to many more years working with Skapa." -Joey Lawson, IT Infrastructure Operations Manager
Paragon
Paragon was one of the first projects Skapa worked on for Stantec GS Inc. Ryan Casey led the architecture and development of Paragon, a Capital Asset Planning and Facilities Management (CAPM) application. The application has been in use for over 10 years and provides Stantec GS Inc. the ability to enter detailed information about facilities (buildings, roads, train tracks) conditions, and needed repairs. The application then calculates the total cost of maintenance or replacement of the facilities, as well as other factors. Skapa also created a new marketing web site and completed a rebranding effort for Paragon.